Ecommerce SEO is the practice of improving organic rankings for online stores. Common tasks associated with ecommerce SEO include optimizing product and category pages, fixing website architecture issues, and link building.
Why Is SEO Important for Ecommerce Sites?
It's simple: ranking at the top of Google for product keywords your customers search for can lead to more sales.
For example, Nikon is ranking #1 for "DSLR cameras."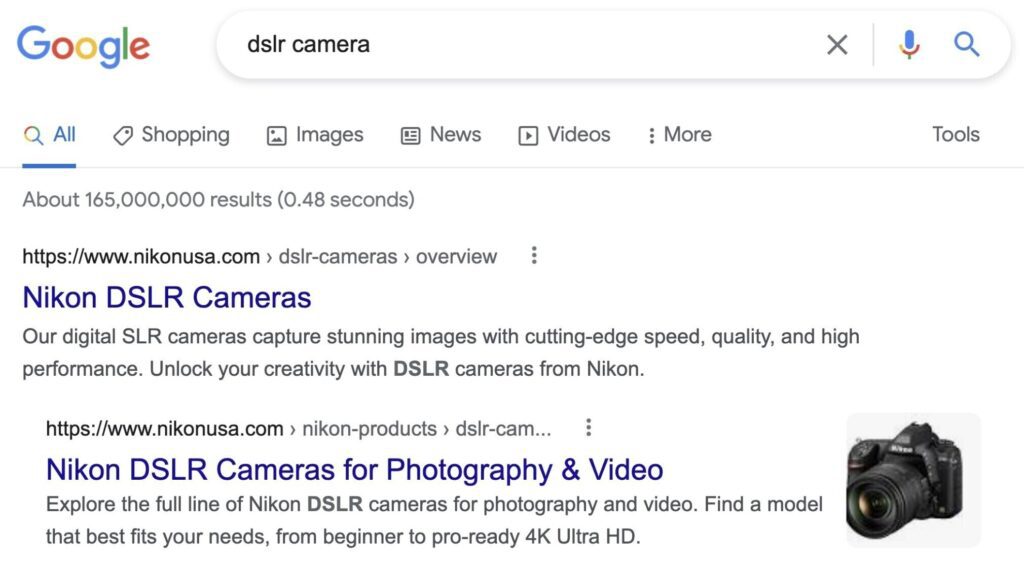 Which means people searching for that product will see (and probably click on) Nikon's product page first.
And Nikon isn't alone. According to Wolfgang Digital, 33% of overall ecommerce traffic comes from organic search.
So if you want to get more traffic to your product and category pages, SEO is one of the best ways to do it.
With that, it's time to cover the exact steps you need to rank your ecommerce site higher in the SERPs (search engine results pages).
How to Perform Ecommerce Keyword Research
Find Product-Focused Keywords
The first step of any ecommerce SEO campaign is to find a number of product keywords that describe what your ecommerce business sells.
Here's how to do it:
Use Search Suggest
Search suggestions are the suggested terms that search engines show you as you type a keyword.
As you might expect, these suggestions are based on what people are actively searching for. Which means they're often trending terms that aren't yet super competitive.
You can use search suggest to find product keywords on Amazon: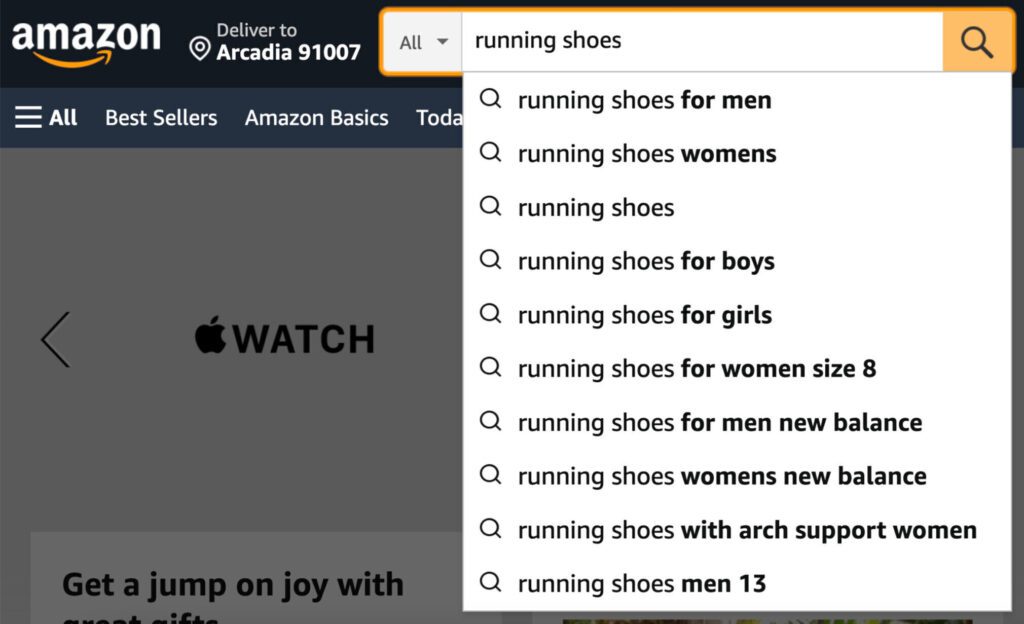 Google: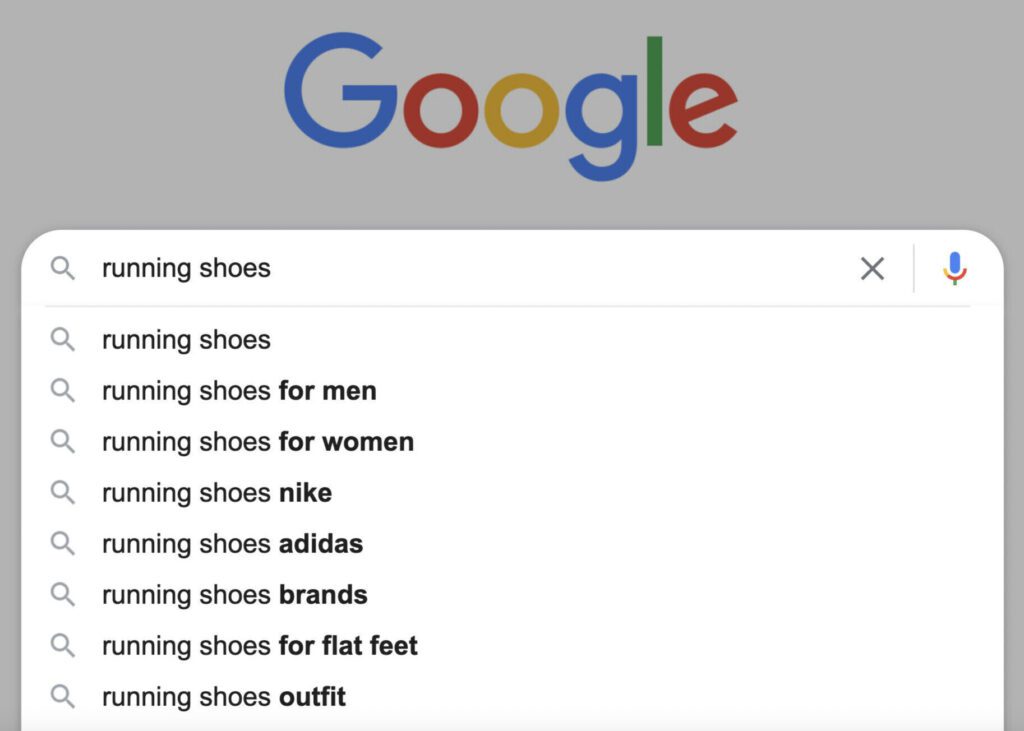 eBay: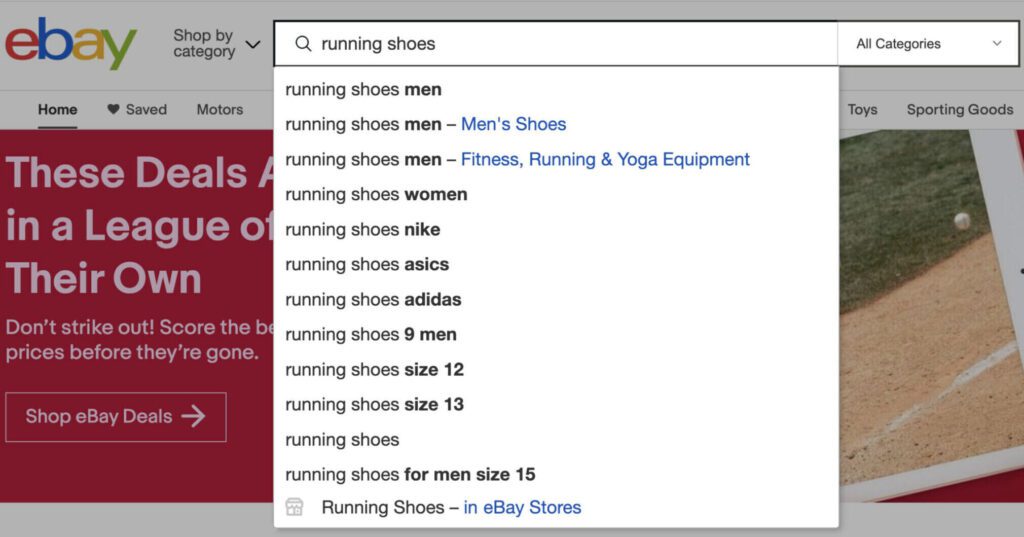 Etsy: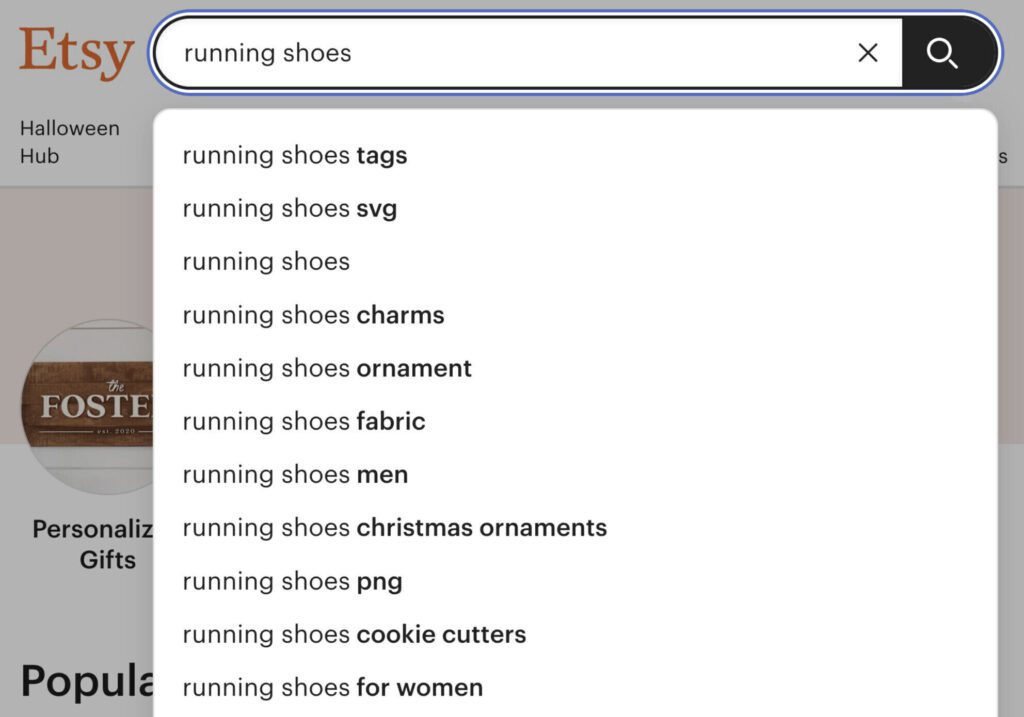 Or any ecommerce site that you're competing with.
Let's say you run an ecommerce site in the pet niche.
Chewy is probably one of your major competitors. What you want to do is type in a product that you sell into the search bar. And see what suggestions you get.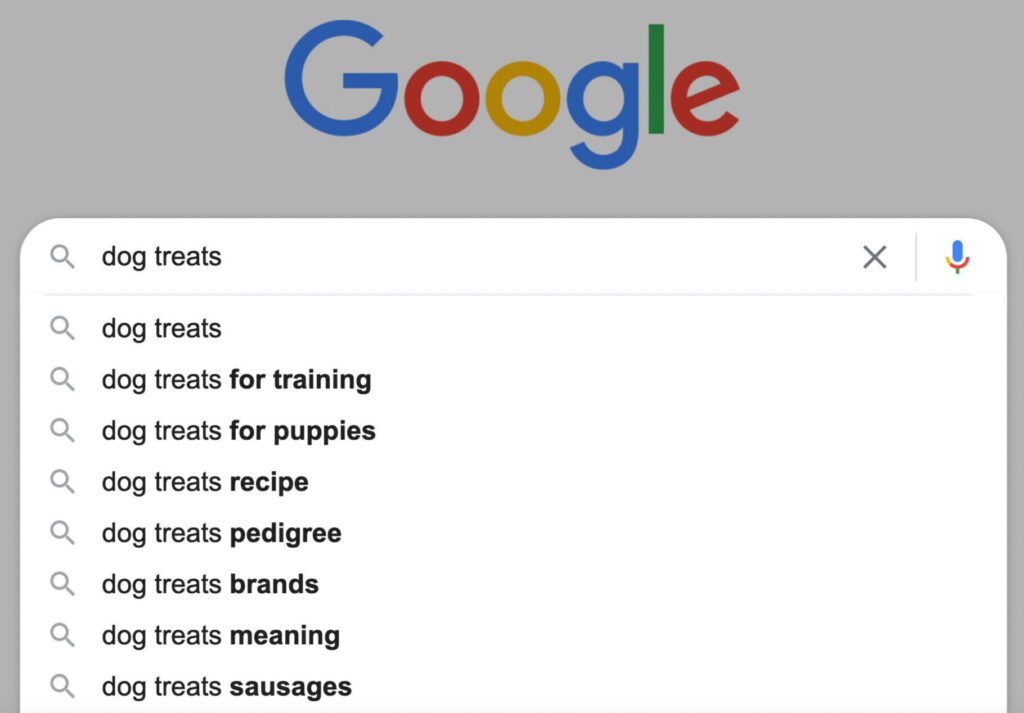 Rinse and repeat for any ecommerce sites in your space that sell similar products.
Use Social Media & Reddit
Social media can be a goldmine of product keywords.
First, head over to a social media profile or subreddit where your target audience hangs out.
If you sell pet products, for instance, you can check out r/DogCare.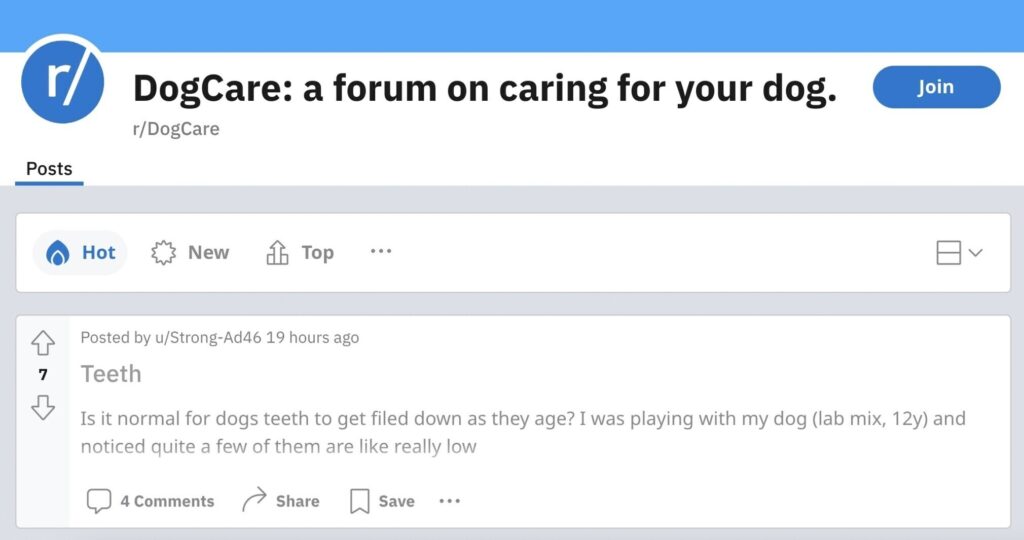 Then, read through the comments that people are leaving on posts.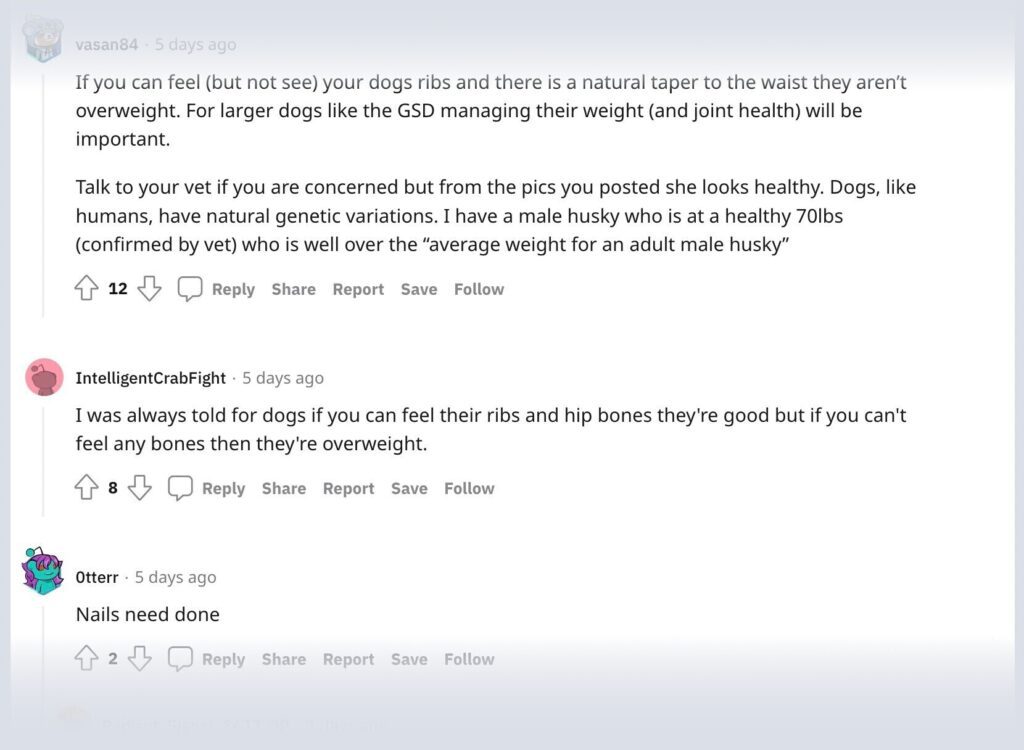 For example, this type of comment cropped up a few times in r/DogCare to answer a question about dog weight.

Which tells us that a product or category page focused on "dog health and weight" could work really well.
Use Google Image Tags
This is an ecommerce keyword strategy that isn't talked about very much.
All you need to do is enter a product or product category into Google Images.

When you do, you should see a number of tags above the image results.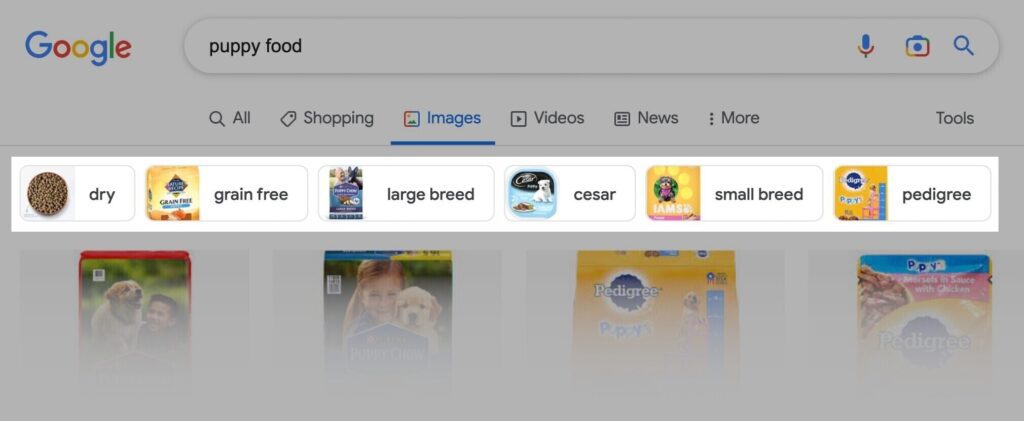 These are all tags that are closely related to the keyword that you just typed in.
Let's say you do a search for "cat toy."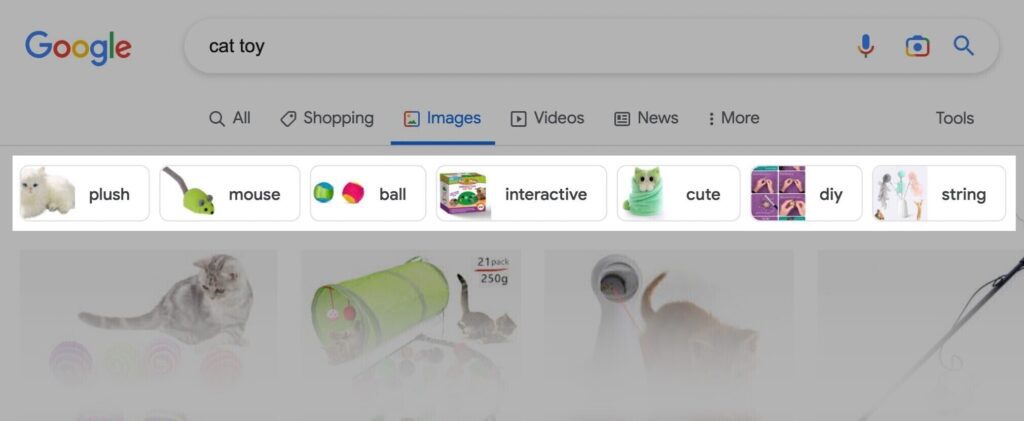 When you combine some of the tags with that term, you end up with a handful of interesting product-focused keyword ideas, like:
Interactive cat toy
Plush cat toy
Mouse cat toy
Ball cat toy
Use an Ecommerce Keyword Research Tool
If you want to find ecommerce keywords, there's a helpful tool in the App Center to check out.
The Ecommerce Keyword Analytics app collects data from the top global retail websites and can help you find high-converting ecommerce keywords.
For example, want to see which laptop-related keywords convert the best on sites like walmart.com, amazon.com, and bestbuy.com?
Just search this app and it will be able to show you tons of metrics about a keyword, including:
Clicks
Searches
Orders
Conversion rates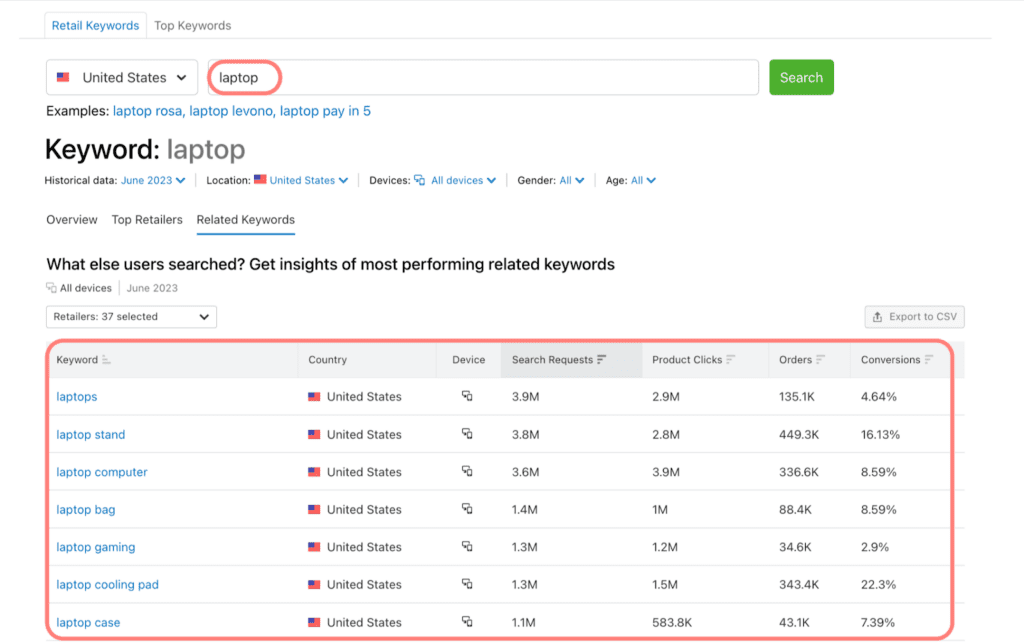 It's important to note that these keyword metrics are about searches happening on retail websites, not on Google or other search engines. This tells you more about the language of customers while they're on their buying journey.
Use a Keyword Tool
If you have the budget, a professional keyword research tool can help you find dozens of product-based keywords in minutes.
Let's say that your ecommerce site sells tennis rackets. All you need to do is type "tennis racket" into a keyword tool like Semrush's Keyword Magic Tool.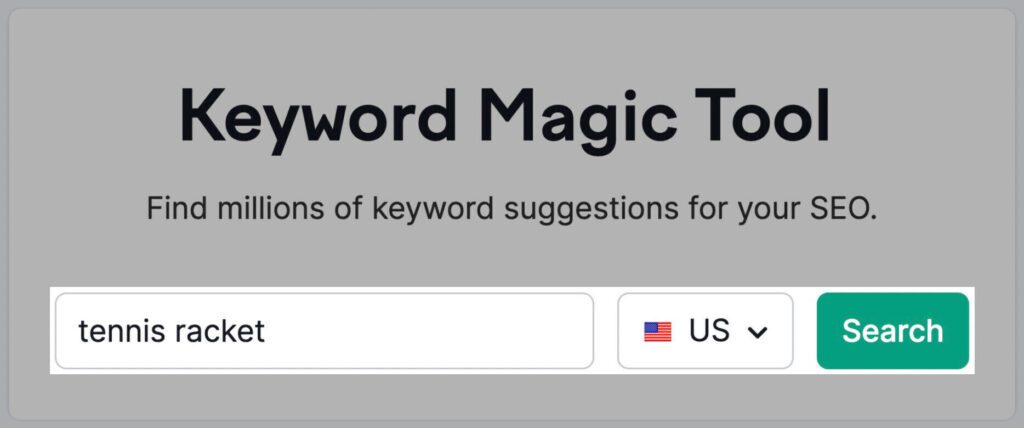 And the tool will generate literally thousands of potential keyword ideas.